With the Strathpuffer race I had the opportunity to test a number of different lights: Hope R4+, R8+, Exposure Diabolo, Maxx D and Joystick.
I was kindly lent these Hope and Exposure lights so it seemed a good chance to do a quick comparison between 5 top models. I had been a convert to cheap Chinese lights a few years ago but as the years go by I get fed up of buying new ones and then them failing unexpectedly again. My review of Chinese lights here starts positive then as I update it I get more and more annoyed with them!
After I first used an Exposure light it was easy to see why the prices vary so much. You get what you pay for so what is the best of the lights from Hope and Exposure I used at the Strathpuffer? BTW the pictures are on my Tripster as I didn't have the energy to take pictures while at the Strathpuffer, but I used my XC race bike.
Hope R8+
This light is epic in every respect. It turns night to day. Literally as bright as the brightest car lights. It causes other riders to dive off the track for cover.
In the box is a bar mount that bolts on nice and easy with a rubber strip on the bars it stayed firm on my carbon bars for the 17 hours of 'Puffer darkness. A neat push and twist release from Hope is super user friendly to mount the light unit. On the helmet I think it would be a bit big and bounced a bit with the velcro strap fitting supplied but did't use this in the race.
Running 8 LEDs it spreads the light well and the diffused design of the lower LEDS creates this flood effect that creates daylight like conditions, in fact like no other light I've used. It's quite like a flood light at a football pitch in looks and performance. On full 4000lumens (3000lumens tested) it only lasts an hour but you can stun more than just rabbits in that hour. On the lowest setting it's still crazy bright 1200lumens but lasts over 4 hours.

Even on the bars it was too much for the Strathpuffer and I only tested it but didn't race with it, this light is for enduro racing at night. The 6 cell battery (9600mah) and light unit weighs the same as my front wheel. The 6 cell battery pack weighs over 500gms. It's size and weight meant it took a few goes to strap it in place to prevent any movement on the trails.
The Hope R8+ is fun to use and certainly one of, if not the Ultimate light for blasting technical trails at night. For 24hr racing it uses to much battery and provides TOO much light and weight!!
The R4+ is more inline for what you need at Strathpuffer at 2000lumens. I used it with a 6 cell battery from the R8+ then later the supplied smaller lighter 4 cell pack. It uses the same bar mount system and helmet mount as the R8+. It would work well on the bars or Helmet as it is much smaller than the R8+. I used on the bars and it worked perfectly .

It lasted over 10 hours constant use on one 6 cell battery at the strathpuffer, on the climbs it was in low mode and on the downs in high mode both more than sufficient light. I was blown away by the length it lasted. After 10 hours the test button showed it had 2 of 5 bars left. Just a shame about the weight but you can't have everything!
This shows the size of the two different packs:

Also as with the above the battery needs to be strapped on hard to stop it moving on rough terrain. I also needed to tape my carbon frame to stop it wearing against the carbon as the grit gets between the battery and frame and can destroy paint or carbon.

I swapped to the 4 cell battery and this lasted under 4 hours with same usage pattern. My theory is that the brutal cold overnight affected the charge in the smaller 4 cell pack more than the big warmer 6 cell pack. Just a theory I had while riding around in circles.


Overall I loved this light and would be tempted to get one for next winter because it suits my demands for night riding. The battery pack fit is the only big issue hanging me back.
This is the beast from Exposure Maxx D mk9 and a popular choice at the puffer. On low setting it says it would last 11 hours when fully charged.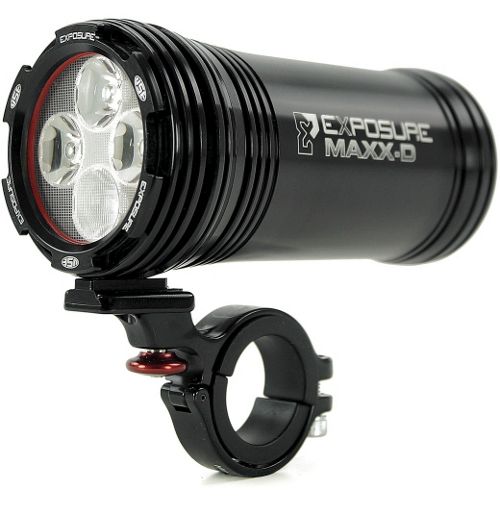 It's popular in this race because it has a digital display saying the time left for reassurance. It's also compact, light and very very bright at 3250lumens on max ouput. It's also just over half the weight of the R8+ less any of the issues with the frame scuffing and the battery moving about.
With the battery built in it is simple to use, it stayed in place on the bar mount when tested on rough stuff. It's a great piece of kit. The battery is 11600mah so bigger than the 6cell Hope one but half the weight how does that work?
Great bit of kit that while it doesn't turn night into day like the Hope R8+ flood light it is epicly bright but easier to use, lighter and lasts as long. I didn't use it because the Hope R4+ was almost as bright but lasted longer and I had more spare batteries so I could use it on full without worrying as much.
Exposure Diabolo
Love this Diabolo mk8 light from Exposure, again an all in one package from Exposure. Expertly made and great specification in a small size.


I used this on the helmet for the 'puffer as it's so easy to clip on and there's no cables to fly about and catch. It is 1400 lumens and lasts 1 hour on full or 24hrs on low!
The genius bit is I used a support cell battery piggy back thing that clips on the top neatly and together with the light battery it lasted 10 hours in mid setting. Not seen this before but highly recommend one take a look here:
Take a look click here.
maybe a bit pricy but these are great bits of UK made kit.
Exposure Joystick Mk11
This is even smaller than the Diabolo and with switching between high and low modes it can be good for over 4hours of usage on it's own. I used this for the next bit of the Strathpuffer with a piggyback again it lasted until dawn (I had a small sleep too!). It's a great lightweight fit and forget light that is a great but too. I have used my one for two years commuting so gets charged each weekday all winter and holds it's charge like day one. Something seen across all hte exposure lights.


At 850 lumens it's a step down from the diabolo but still plenty of light when used with a bar light. When the R4+ died sooner than expect on the 4 cell pack this got me home on its own without issues.


Overall a great light that's cheaper than the Diabolo with only a small step down in performance. It's not enough for Enduro riding but great for 24hour events.
Conclusion
None of these lights are cheap but they work well, they will last a long time in usage and over time and are reliable. The designs are robust, well made from CNC aluminium with tight seals and just so far above anything from China I have used. I guess I need to start saving for next winter!